Vitamin G - Great variety
Variety for speciality shops, gastronomy and farmer's markets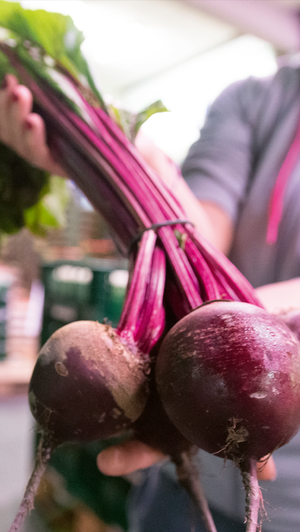 Exotic fruit from afar, locally grown seasonal vegetables, farm products of special form, colour, quality or ripeness: GROSSMARKT HANNOVER truly draws on abundant resources and trades in everything mother nature produces. Our merchants present more than 30,000 fresh products to the buyers, who are not consumers but expert merchants themselves.
Fruit and vegetables from the wholesale market do not reach consumers directly, but through farmer's markets, speciality shops and gastronomy. Most of the buyers are from the farmer's markets, followed by the operators of fruit and vegetable speciality shops and gastronomy buyers as well as bulk consumers such as hospitals, social institutions, food vendors and cafeterias.
Nationwide there are about 55,700 buyers across all wholesale markets in Germany – a large enough number to carry the freshness and variety of the wholesale market into our cities with no loss, making it available to more than 100 million people across Germany. GROSSMARKT HANNOVER as one of Germany's largest markets of its kind makes an essential regional contribution here.

Speciality shops
Fruit and vegetable speciality shops offer a high quality, complete package of fresh products and specialist advice. Nobody is more familiar with the products than the business owners, nobody takes more time to explain special features to their customers or assist them with tips for preparation. This expertise builds trust. Which is why the customers of speciality shops are mostly regulars who know: this is where they get quality they can rely on – and much more.
Gastronomy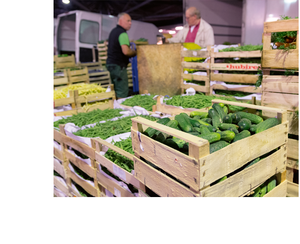 Day in, day out, gastronomy operations cook, boil, prepare, plate and compose – and fresh products from the wholesale market are indispensable. 14,300 buyers in this group nationwide, including bulk consumers such as hospitals and cafeterias, regularly visit wholesale markets to find the best ingredients for their menus. GROSSMARKT HANNOVER is a popular supplier for the region's gastronomy.

Farmer's markets
More than 3,000 farmer's markets in Germany offer fresh fruit and vegetables as well as bread, cheese, fish and meat, plus all kinds of delicacies and even coffee to go. They create an incomparable shopping ambiance under the open sky, an almost southern urban biotope that invites one to stroll, chat, relax, linger and above all enjoy. Farmer's markets are a benefit for districts that must not be underestimated.