Vitamin G for good health
GROSSMARKT HANNOVER contains lots of vitamin G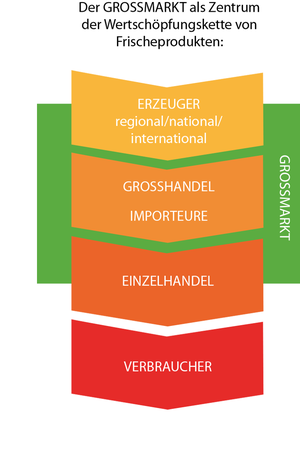 Healthy nutrition with plenty of fruit and vegetables is an important issue today. Local healthy nutrition however is virtually inconceivable without GROSSMARKT HANNOVER and its direct customers – from the greengrocer or speciality shop around the corner to local gastronomy to farmer's markets with their relaxed atmosphere that downright symbolises modern urban life. Thus GROSSMARKT HANNOVER affects our daily life like a vitamin.

Technically GROSSMARKT HANNOVER is the central trading and logistics platform that supplies the city and our region, primarily with fresh fruit and vegetables as probably the most important elements of a healthy diet. This is where regional producers, wholesalers and importers with in-depth, specialised knowledge and many years of experience move vast numbers of boxes, pallets and lots, where different groups of merchants meet to cover all needs of consumers for freshness and variety. Less technically expressed, the wholesale market not only delivers vitamins essential for life, it acts like a vitamin for local life on its own accord.
Vitamin G stands for a healthy, varied diet, sustainable management with natural products, urban diversity with lively markets, and all in all for our city and region, which puts double exclamation marks behind its citizens' quality of life.
Discover the vitalising effect of vitamin G!